Indoor/Outdoor Sparkular Sparkle Fountain - 2 machines included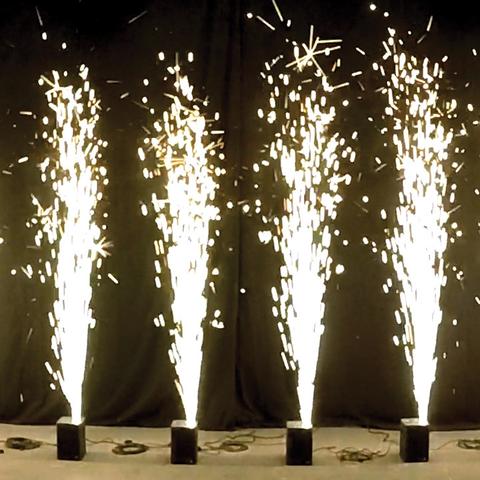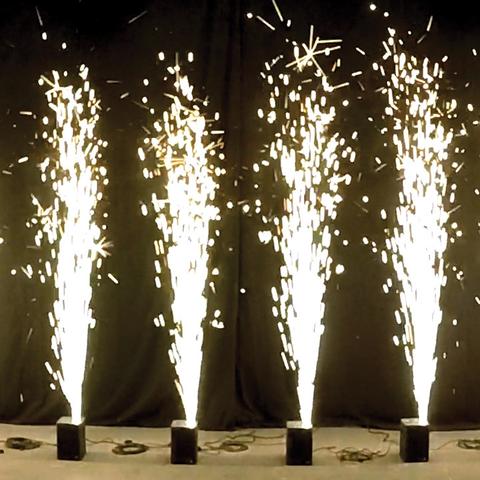 Indoor/Outdoor Sparkular Sparkle Fountain - 2 machines included
Imagine a spectacular fountain of firework sparkles to highlight your entry, cake cutting, first dance and or departure......a product launch, conference or stage performance. Our new Sparkular indoor fountains will provide this spectacular effect without the traditional risk of traditional pyrotechnics. Cold sparks, means no fire, no heat, no smoke and completely compliant with OH&S and safe work methods and compliant with venues.
Safer than traditional fireworks
non pyrotechnic fountain display with total control

NO explosive content

Unique ability to independently control duration and height

NO Hazardous content to deal with

Completely Environmentally Friendly

Industry first NO smell effect

1 moment equals 2 units x 3 minute effects

Price includes 2 machines per hire and operator
The Sparkular system produces a dynamic, non-hazardous, effect that looks exactly like traditional fireworks or pyrotechnics. The effect is simply created using a Sparkular machine and a granulated alloy, removing the need for gunpowder or traditional pyrotechnic techniques.

The duration and height of the effect can be varied throughout a display, with sequences of 'dancing' sparks created to entertain audiences.

The advantages of using the system as opposed to traditional fireworks or pyrotechnics are as follows:
No hazardous materials to transport or store on site.
Much safer than using traditional pyrotechnics.
No large safety or exclusion zones are required as the units produce cold fallout which is perfectly safe (the audience can pass their hands through the effect without any concern).
Can be used in locations where fireworks and pyrotechnics are not permitted.
Up to 15 minutes of effect can be produced from just one powder refill (equivalent to 1800 x 0.5 second pyrotechnic gerbs). This makes the system far more cost-effective.
Low smoke output.
Rigging time and crew requirement is dramatically reduced when compared to traditional pyrotechnics, again, making them far more cost-effective.
Variable duration and height of the effects is achievable.